Lamborghini Essenza SCV12 Track-Only Hypercar in Greenwich, CT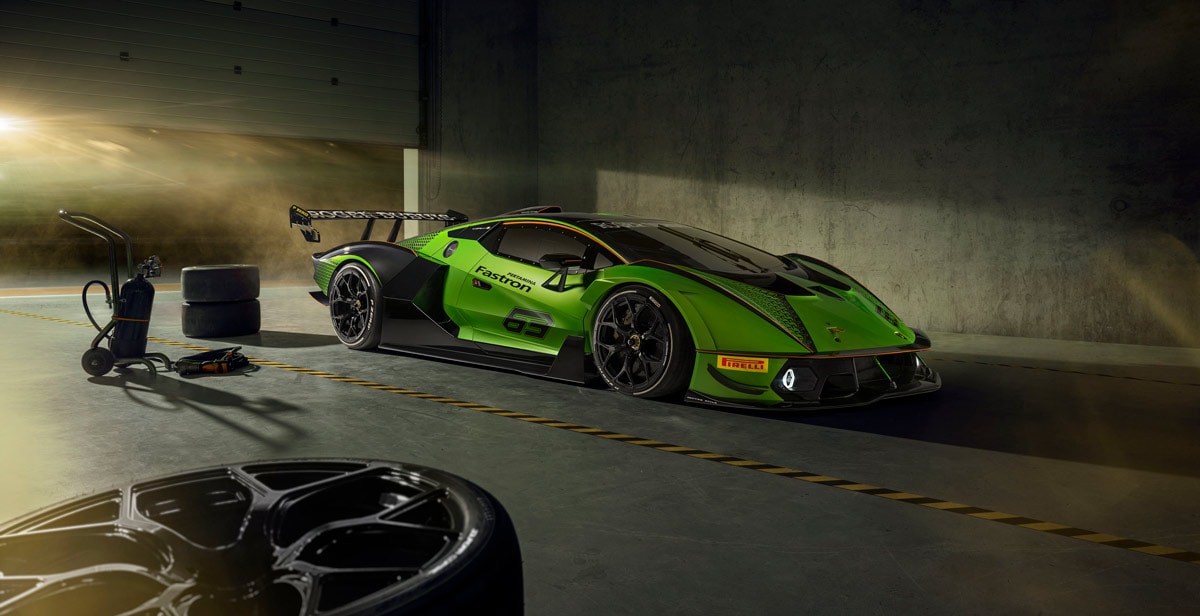 Hit Top-Speed on the Track with the New Lamborghini Essenza SCV12
A track-only hypercar, the new Lamborghini Essenza SCV12 is a limited-edition performance model that is made for the hitting top-speeds on the closed course.  Designed by Lamborghini Centro Stile, the new Essenza SCV12 is one of only 40 units developed by Lamborghini Squadra Corse.  Featuring one of the most powerful engines ever found inside of a Lamborghini, the high-speed Essenza comes standard with a rugged V12 engine that produces upwards of 830 horsepower.  This amazing horsepower output is thanks in large part to the dynamic supercharging system, which is activated at high speeds. This vehicle uses Lamborghini's new X-trac gearbox, which is a six-speed structural sequential model. This gearbox is placed at the rear of the car to work in conjunction with the rear-wheel drive.If you're an aspiring racer who is interested in commandeering the closed-course in Greenwich, CT, you'll be excited to learn more about what the new Lamborghini Essenza SCV12 has to offer.
Unparalleled Track-Ready Performance
The new Lamborghini Essenza SCV12 isn't something you just casually drive down the road on your way to work.  This track-only performance monster is built solely for the closed course.  Pulsating with the power of an 830-horsepower V12 engine, the new Essenza features one of the most powerful naturally aspirated engines ever developed by Lamborghini.  Poised to enhance your performance capability with advanced aerodynamics and modern technology solutions, the new Lamborghini Essenza SCV12 is unlike anything you've ever driven before.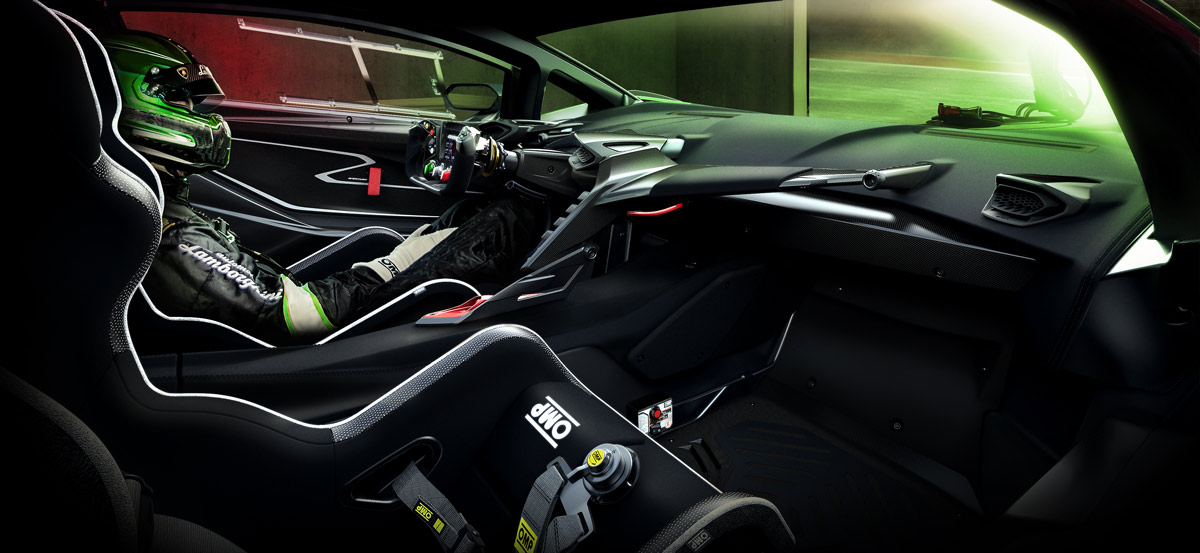 Arguably one of the purest track-driving racecars that Lamborghini has ever built, the new Essenza SCV12 is not suitable for every driver in Greenwich, CT.  Designed to leave the competition behind you, the new Lamborghini Essenza is an impressive feat of automotive engineering that's coming soon to our dealership in Greenwich, CT.  Born ready for the track, the new Essenza SCV12 features unique exhaust pipes that help reduce your backpressure when cruising at high speeds.  Handling the new Essenza is a breeze with an all-new X-trac sequential six-speed gearbox that helps you maneuver around the track effortlessly.In regards to vehicle dynamics, the driver can control everything in the Lamborghini Essenza SCV12 using the advanced steering wheel.
The steering wheel components include the ABS, traction control, clutch system, differential with its own preload, and various engine mapping. To make the Lamborghini Essenza SCV12 even more efficient, it was designed without a rollcage. To compensate for the lack of a rollcage, the Essenza SCV12 was developed with a carbon fiber monocoque chassis, allowing for the highest level of safety and security without needing a steel rollcage. Replacing the steel rollcage with the carbon fiber monocoque chassis allows for more room in the cockpit and enhanced visibility through the windows.
Performance Features
Here's a closer look at some invigorating performance features highlighting the new Lamborghini Essenza SCV12:
Rear-Wheel Drive
1.66 hp/kg Power-To-Weight Ratio
Carbon Fiber Monocoque Chassis
Push-Rod Rear Suspension
Pirelli Tires Mounted on Magnesium Rims
Brembo Performance Disc Brakes & Calipers
Improved Aerodynamics
When it comes to racing around the track at high speeds, the new Lamborghini Essenza SCV12 helps increase your level of efficiency and delivers higher downforce levels.  Refined with new aerodynamics from Lamborghini's Squadra Corse's GT racing team, the Essenza SCV12 comes standard with a performance-inspired front hood that features a double air intake with a central rib.  This advanced system helps separate the hot and cold air as it comes careening down the track and over the airscoop on the roof.  The front also comes equipped with a splitter that helps increase airflow inside the engine and gearbox when you hit top speed.  This system includes two lateral splits and uses vertical fins on the side sills to help your Lamborghini breathe as a fish would underwater. With a downforce of 1,200 kilograms when the car is running at 250 kilometers per hour, the design is aerodynamic enough to absolutely trounce your competition.
An Exclusive Product with Exclusive Perks to Match
The Lamborghini Essenza SCV12 isn't just a car that you can take grocery store. It's a mean racing machine, built for the track and ready to perform to the highest caliber imaginable. Because this is such a high-performing track-only car, there are only 40 of these vehicles in production. When you purchase this vehicle, you become a member of an exclusive club with members all over the world. Starting in 2021, you will be able to receive special perks as an owner of the Lamborghini Essenza SCV12, including access to races in Europe. Make sure that you put Stamford on the map by bringing your new hypercar to some of the grandest tracks all over Europe.
Join Our Exclusive Club in Greenwich, CT
With the new Lamborghini Essenza SCV12 in Greenwich, CT, you're getting one of the fastest and most adaptable racecars on the planet.  Erupting at high-speeds and bursting onto the track with sensational V12 power, the new Essenza is an essential tool to help you chase your championship dreams.  Supercharged and ready for you to get behind the wheel, we ask that you please contact Lamborghini Greenwich to learn more about ordering the SCV12.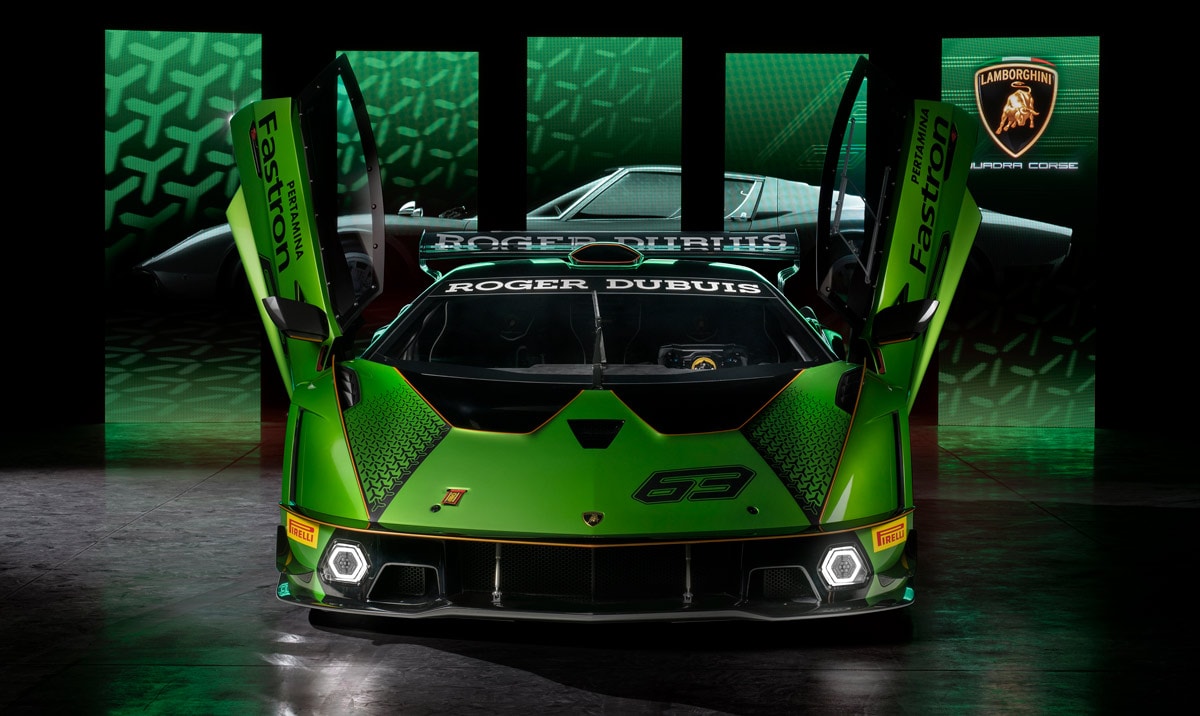 For more information about the new Lamborghini Essenza SCV12, please call, click, or contact us online at Lamborghini Greenwich.  If you're looking to spice things up and get your track performance up to speed, you need access to the most exclusive club in Greenwich, CT.  Learn more and discover how you can schedule a test drive of the new Lamborghini Essenza SCV12 by reaching out to us today!  We look forward to meeting you!