Lamborghini Huracán EVO Spyder Convertible For Sale in Greenwich, CT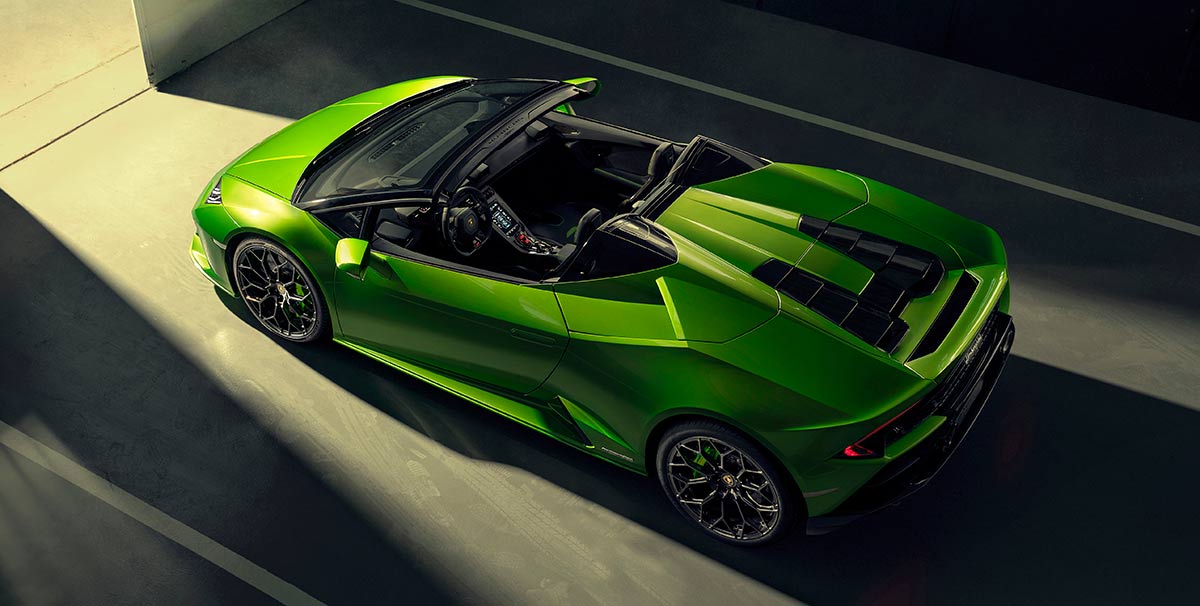 What Makes the Huracán EVO Spyder Convertible and the Huracán EVO Spyder RWD Convertible a True Supercar?
When you are talking about supercars, you are talking about vehicles that provide a level of performance that goes far beyond the average. Drivers in Greenwich, CT, who are lucky enough to get behind the wheel of a true supercar, will instantly know it based on the outward appearance of the vehicle alone and its interior quality.
The Lamborghini EVO Spyder truly is the pinnacle of such supercars since it has one of the most iconic body styles of all time. From the second you see the impressively aerodynamic body styling of the EVO Spyder, you know deep down that this car was built for speed. And the same remains true as you take a deeper look under the hood.
Performance
To complement its aerodynamic deflectors and front splitter which redirect airflow with precision, the EVO Spyder comes with an engine that produces more than 600 horsepower. This naturally results in a driving experience that may accurately be called race-inspired since it will propel you forward at blistering speeds. With the ability to go from 0-62 miles per hour in just 3.1 seconds, you will easily conquer any freeway on-ramp with ease.
This engine really rips and roars too. The pure reverberations of a handcrafted Italian racing engine will fill the city streets as you take one of these bad boys for a spin. But the fun doesn't stop at the ten-cylinder engine either. That's because this vehicle was designed to be the ultimate daily driver.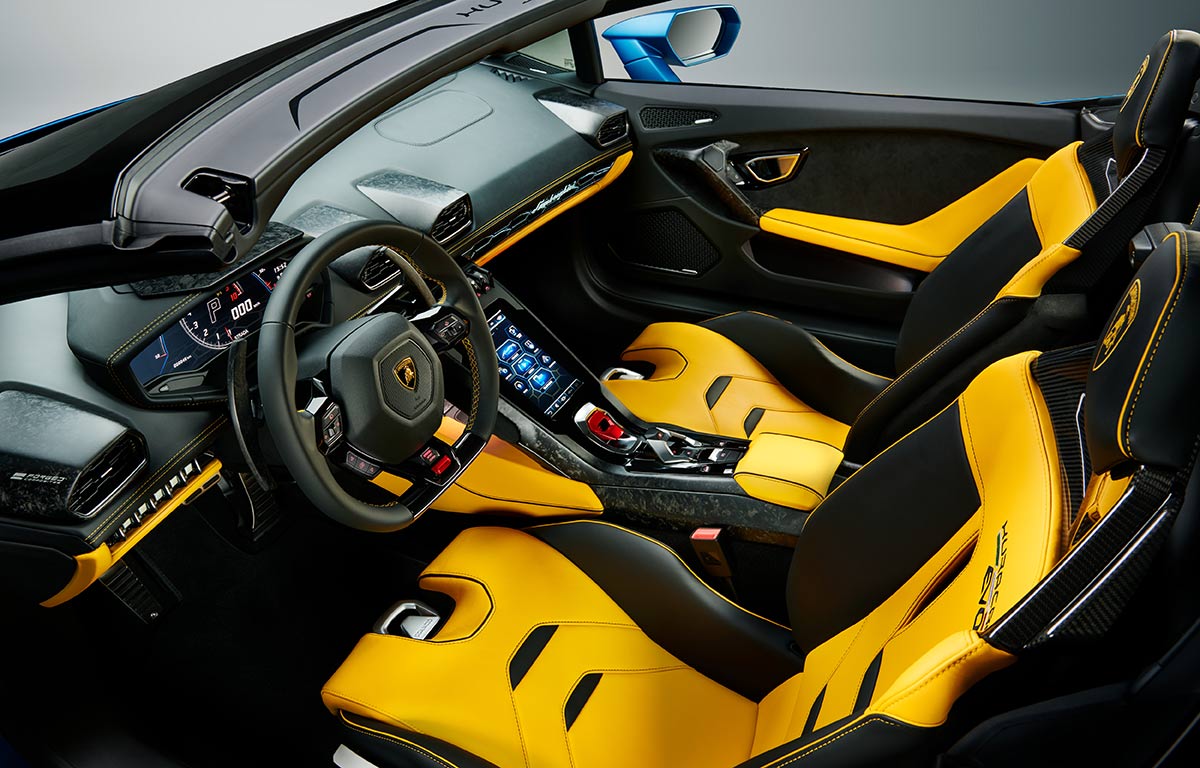 Superior Handling
When drivers in Norwalk get behind the wheel of a Lamborghini EVO Spyder, they are given access to one of the finest convertibles ever created. This vehicle comes with top of the line suspension that is guided by electromagnetic forces. The magnetorheological dampers used in the EVO Spyder's construction adjust to road conditions to provide you with perfect performance under all conditions.
While the Huracán EVO RWD Spyder is designed to emphasize the importance of responsiveness with its rear-wheel-drive setup, the standard EVO Spyder will still provide you with a highly responsive driving experience. This supercar comes with an intelligent all-wheel-drive system that can also adapt to every driving situation. Through the use of sophisticated AI, this all-wheel-drive setup will respond to road conditions and driver input to provide you with a level of responsiveness that will greatly enhance the capabilities of your vehicle.
Seamless Gear Shifting
What makes the EVO Spyder a true supercar though are unique technologies like its seven-speed Lamborghini dual-clutch transmission. This transmission truly is on another level since it allows you to switch between gears seamlessly. When you are in one gear, your vehicle will always be fully prepared to switch into another at a moment's notice, which reduces the amount of time it takes to switch from one gear to another. This provides for a seamless driving experience that reduces lurching when switching gears.

A State-of-the-Art Driver's Cockpit
Of course, a vehicle that is as race-inspired as the EVO Spyder must come with a driver's cockpit to match. If you come down to Lamborghini Greenwich near Stamford to take a test drive, you will discover that the Lamborghini EVO Spyder is quite special in terms of the quality of the craftsmanship that goes into its construction.
When you sit in a Lamborghini of this magnitude, you are treated to the finest of upholsteries, like their exclusive Carbon Skin interiors. You're also treated to race-inspired seats that will keep you feeling nice and secure as you push the limits of the incredible technologies included in this beast of a car.
And if that's not enough, it even comes with a sophisticated 8.4-inch touchscreen that will let you easily navigate the complexities of life while enjoying the pleasures of the open road. It really is this astounding combination of advanced driving technologies that are seamlessly merged with all of the luxuries found in a modern lifestyle that makes today's Lamborghini Huracán EVO Spyder an absolute treat to drive.