New Lamborghini Sián & Sián Roadster in Greenwich, CT

The Future of Luxury Sports Cars is Revealed in the New Lamborghini Sián and Sián Roadster
If you were to peer into the future of luxury sports cars, there is no doubt that the Lamborghini Sián and Sián Roadster would be staring directly back at you. These two sports cars are completely in a class of their own, untouched by most other luxury sports car competition. For years, Lamborghini has been recognized as a high-class vehicle brand, reserved for the few Greenwich, CT elite. It still maintains this feeling of prestige in its newest models, like the Lamborghini Sián and Sián Roadster, and it is not going away any time soon.
Historic Performance
Whether you are looking for a high-powered hybrid or a supernatural V12 that is untouchable, you can get almost whatever you ask for in the Lamborghini Sián and Sián Roadster. Built on Lamborghini's commitment to powerful hybrid models, both the Sián and Sián Roadster are open-top wonders that mix the openness of the outside with the sophisticated look of the inside.
Boasting the most powerful engine to date in its V12 setup, the Lamborghini Sián Roadster is the first and only sports car to feature an open-top design combined with a lithium-ion supercapacitor. Complete with architecture that is only found in this mild-hybrid sports car, the Lamborghini Sián in Greenwich, CT, involves the use of a low-voltage 48-volt hybrid system that generates powerful currents. Asymmetrical power flow allows the Lamborghini Sián and Sián Roadster to maintain this power over time without overheating.
Exotic Interior
The refined craftsmanship that makes up the interior of both the Lamborghini Sián and Sián Roadster features only the most powerful, bold, and exotic details, offering a truly luxury experience for every driver. Meticulous detail, clean-cut shapes, and contrasting colors draw attention right into the driver's seat. Hybrid options are identified by a gold interior that is noted as Oro Electrum in the Lamborghini color pallet. Proving to be just as distinctive as its powertrain setup, the interior of these sports cars is meticulously designed and instinctively laid out.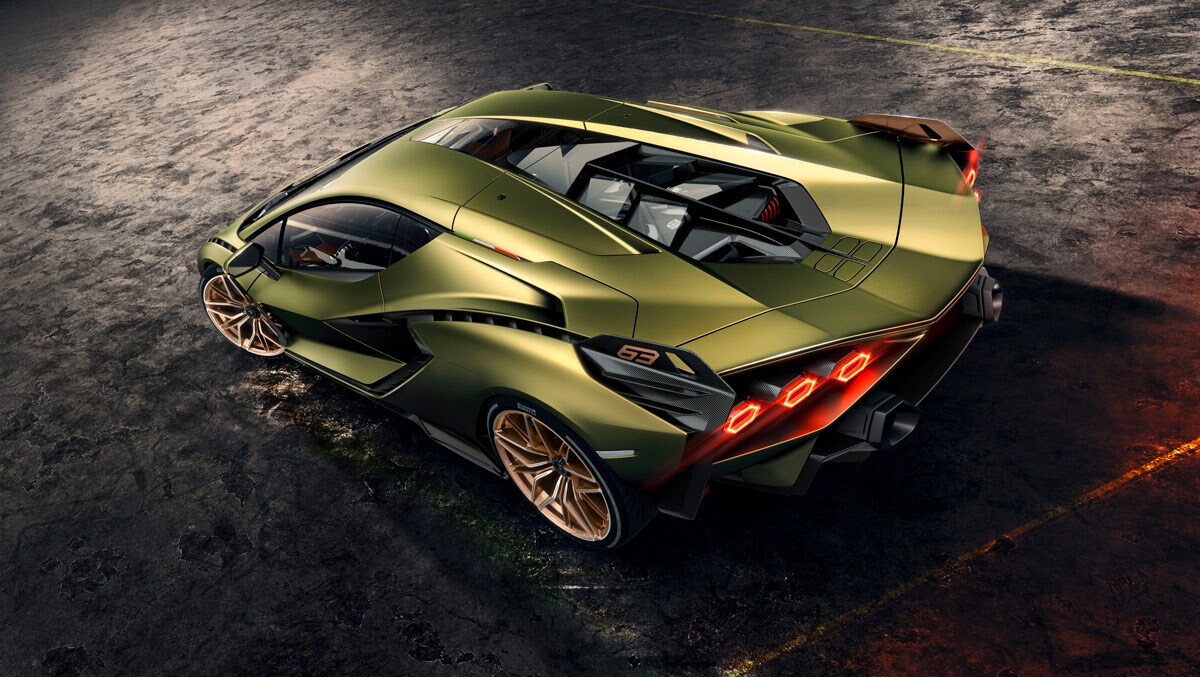 Exterior Design & Features
Sharp edges, defined lines, and sculpted contouring create an exterior for these Lamborghini models that is an experience. Designed based upon aerodynamic concepts that allow it to gain as much momentum as possible, the Lamborghini Sián and Sián Roadster also display a defined silhouette that is one-of-a-kind.
A carbon fiber body that is both lightweight and durable helps drivers to feel as though they are flying when top speeds are reached. The electrochromic roof keeps the excellent design going, like headlights that are inspired by the Terzo Millennio, draw attention to the front of these two luxury sports cars.
Advanced Technology
The potential to reach top speeds in a Lamborghini Sián and Sián Roadster calls for substantial safety integration. Drivers can expect to find plenty of safety features that make maintaining and controlling the hybrid engine and performance easier, and therefore safer.

Most of the technical attributes that are prevalent in the Lamborghini Sián and Sián Roadster are addressed under the hood. Capable of traveling at speeds greater than 217 mph, these two sports car models utilize a naturally aspirated engine that can go from 0 to 60 in less than 2.9-seconds. An all-wheel drive system that is electronically controlled offers comfortable travel on multiple terrain types without compromising speed. The Lamborghini Sián and Sián Roadster are some of the most impressive vehicles the professionals at Lamborghini Greenwich have ever experienced.
Interested in making one of these models your own? Stop by today to take one for a spin.
Make an Inquiry