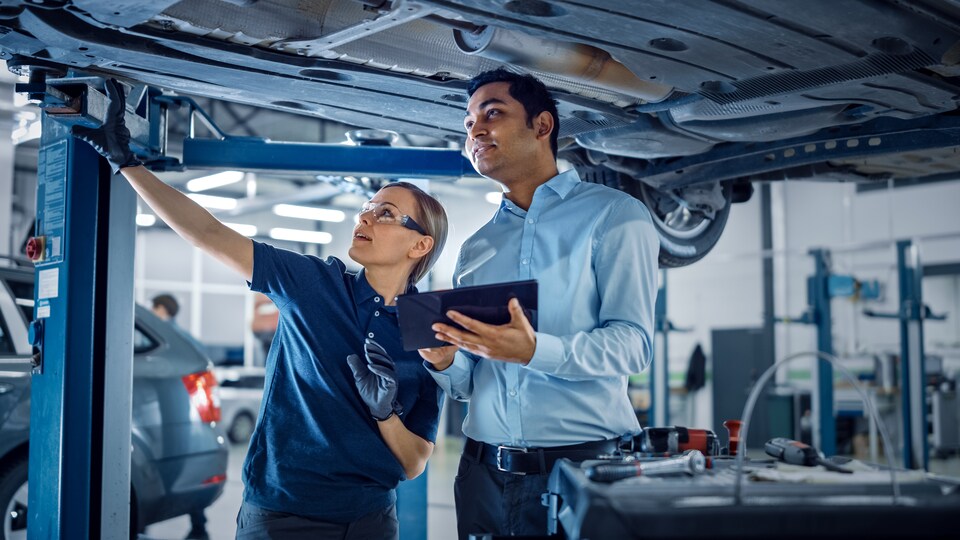 Lamborghini Multipoint Inspections at Lamborghini Greenwich
When it comes to getting professional maintenance and repair services for your Lamborghini, there's no better place to go than our Service Center near Stamford.  Our factory-trained technicians have all the specialized tools and expertise to keep your Lamborghini at factory standards and continued superior performance.  Our experts are specifically trained to work on your exotic car and know the ins and outs of these powerful machines better than anyone.  Part of your routine maintenance with your Italian supercar entails a multipoint inspection at your routine appointments centered around your regular oil changes.  A multipoint inspection provides many benefits and keeps you aware of the condition of all the major components of your Lamborghini, ensuring it is performing as it should.
Stay On Top of Guidelines and Maintenance Schedules with Multipoint Inspections
Your Lamborghini requires regular service to maintain its incredible high-performance.  Our service center provides multipoint inspections to stay on top of all your important components to ensure your supercar is operating at the superior level you expect.  We have a service menu specifically tailored to your car, so you know when it is time to complete all your required factory-recommended maintenance and services.  Typically, your maintenance schedule centers around a 9,000-mile or 12-month interval, whichever comes first.  A multipoint inspection is a standard operating procedure when you bring your Lamborghini in for routine maintenance.  However, you can also request an inspection if you have any concerns or want to check over your components and ensure everything is in good working order at any time.  The multipoint inspection will be repeated every 9,00-miles and will cover items like:
Air filters
Radiator
Steering components
Front and rear suspension joints
Brake system and brake pads
Electrical connections
Fluid levels
Tires and trims
Tire Repair Kit
Factory Diagnostics
Road Test
Additional Multipoint Inspection Items After 27,000-miles/Three Years
Along with the routine items listed above, our technician will double-check additional components after the 27,000-mile or three-year mark, whichever comes first.  Around the time you get your third oil change, we will typically refresh the gearbox fluid and complete a tire rotation.  We will also inspect the oil vapor recirculation system, oxygen sensors, EVAP system, injection and ignition systems, and reset any service messages.  These additional inspection items cover components that don't normally need to be checked at more frequent intervals.  However, you can feel confident that all your components are covered and getting adequately checked and serviced as needed when you schedule routine maintenance at our service center.  The multipoint inspection will continue to provide you with updates and crucial information on all your supercar's essential components.  By keeping up with this important information, you can stay on top of any necessary services or repairs before they cause excessive damage or become more costly for you to repair.
Multipoint Inspections for Unexpected Problems
Sometimes you just know when something isn't quite right with your Lamborghini.  No one else knows your vehicle like you do other than our factory-trained techs.  If you know something is wrong but are not sure, a multipoint inspection is a great way to cover all your bases and uncover any issues during the diagnostics or road test.  A multipoint inspection can give you peace of mind that any issues will be addressed earlier rather than later.
Maintenance and Multipoint Inspection Warranty Coverage
With Lamborghini's additional 12-year anti-perforation warranty, some of your regular maintenance, including multipoint inspections, are covered.  This limited warranty is meant to protect from corrosion or rust from a factory defect but adds 24-hour toll-free roadside assistance and some repair and maintenance.  Services like oil filter changes, air filter changes, brake fluid changes, spark plug changes, and multipoint inspections are covered.
Schedule a Multipoint Inspection at Lamborghini Greenwich
For all your Lamborghini maintenance and repair needs, trust the experts at Lamborghini Greenwich near Norwalk.  No one knows your exotic car better than our Lamborghini-trained techs, so you can feel confident that we will keep your Lamborghini up to its high-performance standards.  Schedule an appointment online or over the phone at your convenience.
Schedule Service
Your privacy is important to us.
Lamborghini Greenwich takes your privacy seriously and does not rent or sell your personal information to third parties without your consent. Read our privacy policy.
Hours
Monday

8:00AM : 5:00PM

Tuesday

8:00AM : 5:00PM

Wednesday

8:00AM : 5:00PM

Thursday

8:00AM : 5:00PM

Friday

8:00AM : 5:00PM

Saturday

Closed

Sunday

Closed