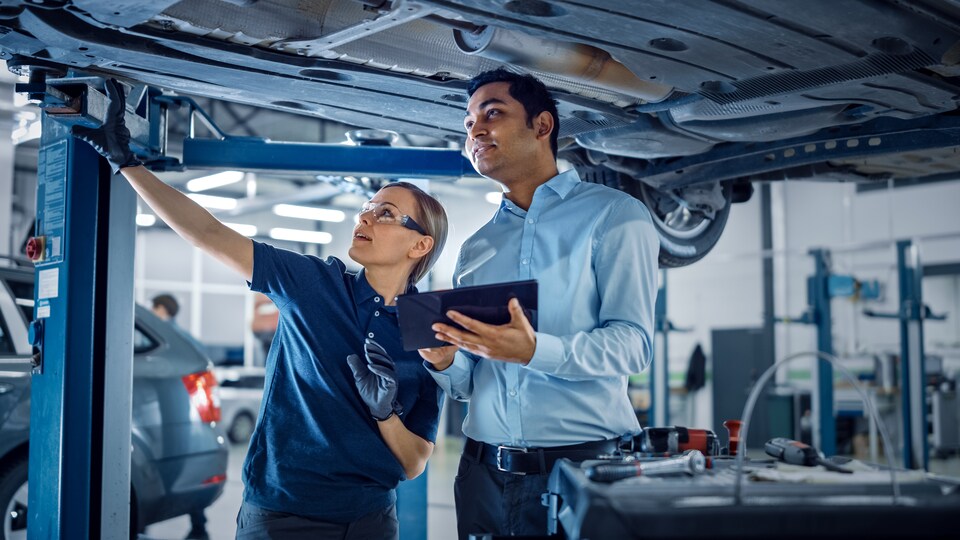 Get Your Expert Lamborghini Oil Change in Greenwich Today
If you're the proud driver of a Lamborghini model in the Norwalk area, getting service is probably at the forefront of your mind. While it's universally known that oil changes are a vital part of caring for any vehicle, it's especially important for Lamborghini models known for their high-performance output and impressive horsepower and torque numbers. Simply put, oil changes act as the internal lubricant for all of the moving parts and pieces of your finely crafted automobile.
To get the most out of performance capabilities, fuel economy, and to extend the life of your vehicle to its maximum, routine oil changes are a must. Get your most asked oil change and oil filter change related questions answered with the experts at your local Lamborghini Greenwich dealership today.
What are the Types of Lamborghini Oil?
There are several types of oil that can be used in a Lamborghini model, each of varying viscosities. However, the most popular oil used in models such as the Lamborghini Aventador is the Castrol SLX Professional Full Synthetic SAE 5W-30 oil. Of course, the best way to know which is the recommended choice for your Lamborghini is to consult your owner's manual or one of the Lamborghini experts here at our service center in Greenwich. We're familiar with the brand lineup and know which type of oil is right for which model.
What are the Types of Lamborghini Oil Filters?
Each Lamborghini model in the lineup requires a different type of oil filter. This is determined in part by the type of oil your model requires, the size and space of the oil cartridge and filter area, as well as your choice from a price standpoint. Many use Fram Cartridge Oil Filter, some use CARQUEST Premium Oil Filters, and of course, there are many other options to choose from based on the aforementioned criteria. Ask one of our mechanics for more information.
How Do I Know I Need an Oil and Filter Change?
Lamborghini models need their first service appointment and oil change at the 9,000-mile marker. At this appointment, you'll have your oil changed, and your filter changed. This maintenance should be good for another 9,000-miles or 12 months. It's important to stay on this schedule at the start of your Lamborghini ownership experience. As your vehicle ages, the time between appointments may narrow, requiring an oil and filter change every 5,000-7,000-miles instead. The good news is that Lamborghini models take full synthetic oil, known to last longer.
What Oil Should I Use in My Lamborghini?
Please refer to your owner manual to know the specific type of oil that should be used in your Lamborghini model, as every vehicle is slightly different based on the model, manufacturing year, and engine type. If you notice that the Castrol SLX Professional oil is recommended, the name has been adjusted to Castrol Edge Professional. Again, when in doubt, connect with our service team to get greater intel on the ideal type of oil needed for your vehicle.
Schedule Your Service Appointment with the Experts near Stamford Today
Convinced on the importance of oil changes for your exotic vehicle? Now's your chance to take advantage of the expert opinions of Lamborghini Greenwich service center mechanics. Schedule your appointment today for your oil change with a team you can trust. Because we specialize in the Lamborghini brand, you can enjoy a fast and stress-free experience that's nothing short of the luxury you experience with your vehicle every day. Book your appointment online or via phone.
Schedule Service
Your privacy is important to us.
Lamborghini Greenwich takes your privacy seriously and does not rent or sell your personal information to third parties without your consent. Read our privacy policy.
Hours
Monday

8:00AM : 5:00PM

Tuesday

8:00AM : 5:00PM

Wednesday

8:00AM : 5:00PM

Thursday

8:00AM : 5:00PM

Friday

8:00AM : 5:00PM

Saturday

Closed

Sunday

Closed