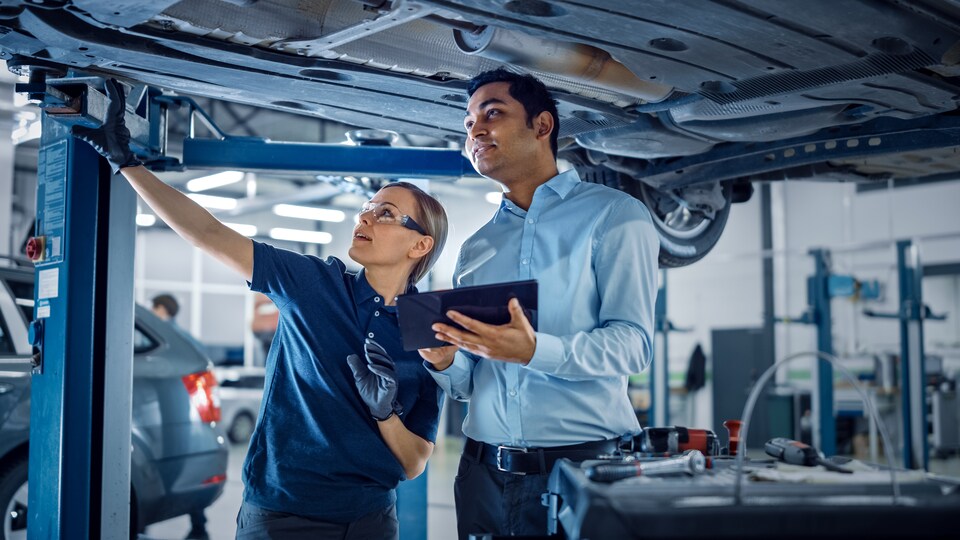 Treat Your Lamborghini to a Tire Swap this Winter in Greenwich, CT
Discover the Benefits of Routine Service at Lamborghini Greenwich
Living life to the fullest equates to unparalleled happiness and delight, both of which you'll find behind the wheel of a new Lamborghini in Greenwich, CT.  If you're in the market for a high-end luxury car that launches into action with quick-witted acceleration, you owe it to yourself to check out our new Lamborghini inventory.  At Lamborghini Greenwich, we're proud to help you explore our selection of powerful new sports cars and show you what it takes to maintain them.
Lamborghini Winterization Prep
When the going gets tough, and the snow starts blanketing the highways of Greenwich, CT, you need confidence in your vehicle's ability to hold its traction on slippery roads. As winter approaches in the Northeast, Lamborghini Greenwich is here to help you prepare your vehicle for winter by servicing your tires.  Whether your Lambo is new, used, or certified pre-owned, the experts at our facility in Greenwich encourage you to schedule routine tire care for your luxury car this season.
Seasonal Tire Swap - What Are the Benefits?
Even if you don't plan on venturing off-road with your Lamborghini, it's still very important to monitor the quality and condition of your tires.  Tires that are balding or on the verge of deterioration pose many problems for drivers in New England, which, if left unchecked, can result in catastrophe. This winter, our team is here to help you understand the benefits of swapping your tires before the storm centers its fury directly over our heads.
There are many benefits to swapping your tires in preparation for the harsh winter to come in Greenwich, CT, including:
Routine tire rotations help evenly distribute tread and keep all four wheels uniform in their structure
Our expert service team will swap your tires and perform a comprehensive check to ensure each wheel is safe before reinstallation
Scheduling routine tire care keeps eyes on your wheels, suspension, and underbody components - most of which are unseen or unheard of until there's a problem
And More!
Do I Need Winter Tires for My Lamborghini in Greenwich, CT?
Snow tires - or winter tires - add confidence and extra protection against the elements during the colder months of winter.  Depending on how often and where you drive during the winter, you may benefit from swapping your Lambo's current tires out for winter-specific tires.  Winter tires incorporate a reinforced network of deeper treads, adding more grip and traction to help you maintain control on slippery and ice-covered roadways in Greenwich, CT.
If your Lamborghini is new and your tires are fresh from the factory, you may not need to swap out for winter tires right away.  But as the weather changes and the seasons make way for more intense and unforgiving conditions, it's always in your best interest to proceed with caution and supplement your current tires with winter tires.  For those who must drive and travel to work regardless of what the roads look like, swapping your existing tires for snow tires is the best way to combat the weather and provide unwavering peace of mind when the roads are slick.
Contact Us to Learn More
The service experts at Lamborghini Greenwich are factory-trained to administer all types of routine and advanced repairs for your Lambo, including seasonal tire swaps and tire rotations.  In preparation for the frigid temps and frozen-over highways in Greenwich, we recommend scheduling a service appointment for your Lambo to have your tires and wheels evaluated by a professional.
We can help you prepare for the cold weather and ensure your Lambo is fit to take on the elements this season with routine tire care when you need it most!  For more information, please call, click, or contact us online at Lamborghini Greenwich today!
Schedule Service
Your privacy is important to us.
Lamborghini Greenwich takes your privacy seriously and does not rent or sell your personal information to third parties without your consent. Read our privacy policy.
Hours
Monday

8:00AM : 5:00PM

Tuesday

8:00AM : 5:00PM

Wednesday

8:00AM : 5:00PM

Thursday

8:00AM : 5:00PM

Friday

8:00AM : 5:00PM

Saturday

Closed

Sunday

Closed