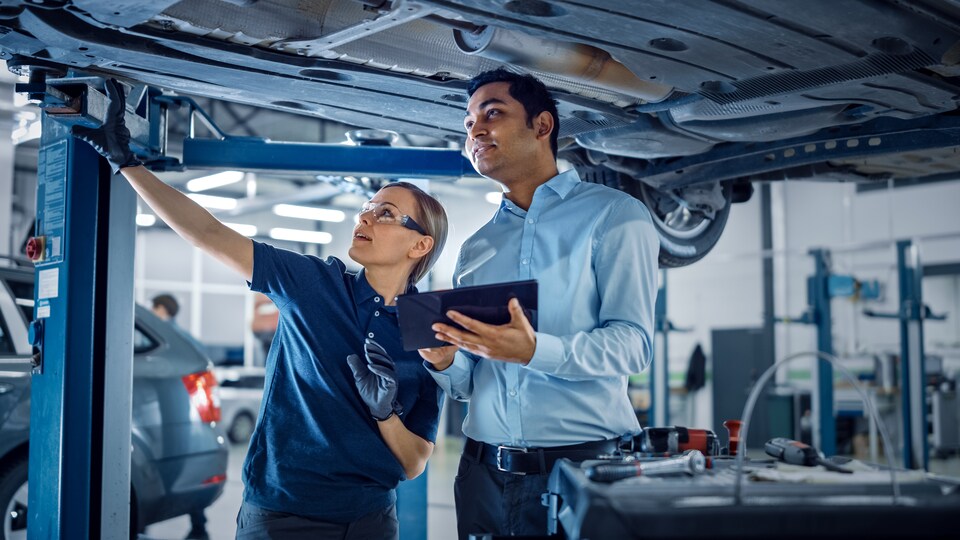 Make Your Lamborghini Brake Service Appointment in Greenwich Today
The brakes are one of the most important parts of any vehicle for both safety and performance reasons, and anyone who owns a Lamborghini model certain knows the power of such fantastic performance breaks. Keep that aggressiveness and responsiveness in your Lamborghini vehicle's brakes by getting regular service. Whether it's a brake pad replacement or a more detailed inspection of your brakes' mechanical parts such as the shocks and rotors, we can take care of that for you with ease. Stop by our dealership local to Stamford and Norwalk today to get started.
In the meantime, get those burning brake-related questions answered today.
Types of Lamborghini Brake Pads
Depending on what type of Lamborghini model you have and which drivetrain that model is equipped with will determine what type of brake and brake pad you have. Many models in the lineup come with carbon-ceramic brakes on the front and rear wheels. If you drive a Lamborghini Huracan with rear-wheel drive, you most likely have ventilated steel disc brakes. Depending on which type of brake you have, you'll want the corresponding brake pad. It also depends on what you use your Lamborghini for. For street driving, utilize street performance brake pads. For track performance, utilize full race brake pads or another type of advanced performance brake pad.
Three Reasons to Replace Your Brake Pads
Safety
Safety is the number one reason to replace your brake pads. As you probably know, the brake pads make slowing down and stopping possible. That's the number one most necessary function your vehicle should perform no matter the circumstances. With fresh brake pads on your side, you'll also enjoy the performance benefits that your Lamborghini was built to produce. A good sign of knowing it's time to change those brake pads from a safety standpoint is if you hear grinding, squealing, or churning noises when you apply the brakes. This is a tell-tell sign it's time for fresh brake pads for the health and safety of you, your vehicle, and fellow drivers on the roads of Greenwich.
Change of Needs
With a Lamborghini, there's a certain amount of variability that's up to you when it comes to your brake performance. As discussed, if you've been using your Lamborghini for street driving but want to move onto the track, that may be a great time to switch out your brake pads for something that will support your change in driving habits, or vice versa. Consult our team of mechanics to get more insight into what brake pads are ideal based on how and where you plan to drive your vehicle.
Health of Your Vehicle and Performance Ability
Because Lamborghini models are known for their superb track-ready performance, having fresh brake pads makes the entire driving experience more aligned with what you paid for. Not to mention, if your existing brake pads are damaged, the actual structure and mechanical aspects of your brakes could be getting damaged, too, making for an exceedingly costly repair down the line.
Get Your Brake Service Appointment on the Books Today
Ready to have a team of experts take care of your Lamborghini model? Now's the time to make a change in your vehicle's performance. Easily book your appointment online or by phone with Lamborghini Greenwich to get started today. You'll love how fast and easy the process is for you. Due to our expansive knowledge of the Lamborghini brand lineup and all of their inner workings, you'll enjoy a fast and luxury experience like no other with our expert service center near Stamford.
Schedule Service
Your privacy is important to us.
Lamborghini Greenwich takes your privacy seriously and does not rent or sell your personal information to third parties without your consent. Read our privacy policy.
Hours
Monday

8:00AM : 5:00PM

Tuesday

8:00AM : 5:00PM

Wednesday

8:00AM : 5:00PM

Thursday

8:00AM : 5:00PM

Friday

8:00AM : 5:00PM

Saturday

Closed

Sunday

Closed