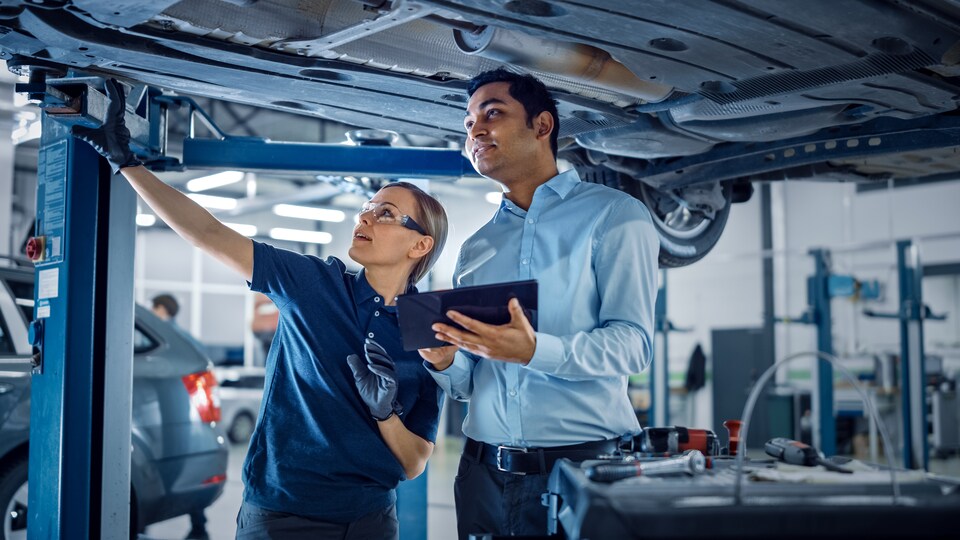 Lamborghini Wheel Alignment at Lamborghini Greenwich
Our factory-trained Lamborghini technicians at our service center near Norwalk are skilled at all the routine maintenance tasks that can challenge any other mechanics not trained to work your high-end supercar.  When it is time for a wheel alignment, you want to make sure all four tires are balanced, so your Lamborghini continues to perform with the precision you would expect.  Our specially trained team can handle anything from oil changes to major repairs in case of accidents.  Wheel alignment is a crucial part of your Lamborghini's routine maintenance, and our experts will ensure they get it done to the highest level.
Wheel Alignment on Lamborghini Supercars
Wheel alignment is an essential adjustment to the way your Lamborghini tracks on the road.  All four tires should point in the same direction so there is no uneven wear and tear.  The power, acceleration, steering and braking all depend on the balance of the tires along with the condition of the steering mechanisms, shocks, and springs.  When your wheels are out of balance, you may notice that your Lamborghini pulls or drifts to the left or right during acceleration and can feel more dramatic during braking.  Our Lamborghini technicians have all the skills and tools they need to diagnose your supercar and ensure it gets back up to factory standards.
How Wheel Alignment Services Work
When you bring your Lamborghini into our shop for a wheel alignment, you can expect that our technicians will look over your car carefully and ensure they complete a  proper diagnostic check.  Wheel alignments involve looking at all four tires and ensuring they are all tracking in the same directions.  You can feel confident that our technicians will look at all four tires and not just do a front-end alignment.  They will make several adjustments that address different kinds of misalignment:
Camber: Outward or inward tilt of the tires from a head-on view
Caster: Front or rear tilt when viewed from the side
Toe: Inward or outward orientation from above, also called toe-in and toe-out
A wheel alignment on a Lamborghini requires special equipment and highly trained technicians. Unlike an oil change, a wheel alignment is a complicated service.  This crucial maintenance task must be done with precision to keep your Lamborghini in excellent working order and avoid excessive wear and tear or compromised steering performance.
How to Tell if Your Lamborghini Needs a Wheel Alignment
Our factory-trained professionals will complete wheel alignments during your regular maintenance visits.  However, you may need wheel alignments at more frequent intervals depending on various factors like extreme weather or driving habits.  There are some signs to look out for that will let you know when you might need an alignment.  Some indicators might be:
Drifting left or right
Increased steering effort/harder to stay straight
Shimmy or shake in the steering wheel
Premature wear on your tires
Uneven wear and tear on your tires
If you notice any of these signs, please contact our service center as soon as possible so our technicians can get your Lamborghini back up to factory standards.
Routine Wheel Alignments
Typically, you would get wheel alignments during the regularly scheduled maintenance recommended times as needed.  For wheel alignments, our experts suggest an alignment check every six months or 6,000-miles.  At a minimum, you should never go over 10,000-miles without a check.  We also recommend an alignment check twice a year or whenever you have your tires rotated or replaced.  An alignment check is different from the full wheel alignment, and we would check first to see if you need one before completing the full service.
Service Center at Lamborghini Greenwich
For all your Lamborghini service needs, choose only a factory-trained professional like our technicians at Lamborghini Greenwich near Stamford to make sure your supercar performs at superior standards.  You can request service online or give us a call to schedule all your important service and maintenance tasks.
Schedule Service
Your privacy is important to us.
Lamborghini Greenwich takes your privacy seriously and does not rent or sell your personal information to third parties without your consent. Read our privacy policy.
Hours
Monday

8:00AM : 5:00PM

Tuesday

8:00AM : 5:00PM

Wednesday

8:00AM : 5:00PM

Thursday

8:00AM : 5:00PM

Friday

8:00AM : 5:00PM

Saturday

Closed

Sunday

Closed